Packaged Application Services
Software product manufactures operate in a highly competitive and dynamic global environment. The challenge is to keep up with technology changes as well as changing customer needs, all the while, getting better products to market, faster than one's competitors. Boardrooms across many countries in this space are facing increasing challenges in terms of new technologies, maintaining the competitiveness of the product line. This means that they need to tap a global talent pool. The economic and intellectual benefits of this strategy are so overwhelming that it is often referred to as 'next generation resourcing'. In PI Systems, we call it "Extended IT".
Outsourcing "non-core" activities to gain such economic and intellectual advantage has become an essential component of any successful business strategy. The global competitive market is gradually changing the core expertise of ISV's from product development to product management. Independent Software Vendors (ISV's) have begun to realize the advantages in engaging global talent to augment development capabilities, right from high-end architecture designing to development and version support - all at a lower cost and within a short span of time.
The reality of the global business environment is that some regions have a competitive advantage as a result of higher skill availability, specialized education, lower living costs, and different time zones (i.e., IT professionals can work on a product engineering project round the clock). There is also the benefit for ISV's to not be responsible for hiring, training, development, retention or termination of employees. Therefore, offshore product engineering continues to be a highly attractive business strategy for ISVs and its use will continue amongst ISV's in regions such as the US, India, Germany, France, Japan and Hong Kong.
To achieve and maintain a competitive edge, an ISV needs a partner that can add value throughout the product lifecycle and work as an extension of its in-house team.
Most of these challenges are mitigated by evolving Global Development Strategies that will enable ISV's collaborate with software services companies' nearshore or offshore. Such sourcing strategies assist companies to focus more on their core business priorities and strategies and let a specialized external service provider to co-manage its product development and IT operations.
We, in PI Systems, have created a niche for providing suitable environments for product development companies.
Our product development heritage gives us the edge to understand what it takes to develop a product. With a suitable mix of Business/Technology and Engagement guidelines we have been able to successfully develop products for many companies in a collaborative manner.
Our services manage end-to-end life cycle of both shrink and SAAS products. Our services are governed by methodologies to deliver through agile development methods, multi-version/configuration management and IP security.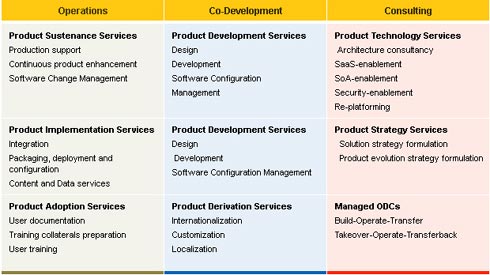 IP Security
Legal Measures - Signing an NDA (Non Disclosure Agreement) during initial stages is mandatory, which coupled with the Master Services Agreement provides the ISV with comprehensive legal protections. Also, each PI Systems employee signs an NDA just to work with us, an additional NDA prior to working on a new project, as well as no-compete contract.
Physical Separation - Access Control Systems with enhanced security for server rooms, round the clock security personnel, monitoring & tracking hardware/equipment movement as well as visitor movement, removal of media devices such as floppy & CD drives (unless authorized), are some of the physical measures taken to protect client IP.
Logical Separation - Dedicated LAN's, Dedicated Project Servers, Firewalls separating projects, VPN Connectivity, Source Code Protection, and Email Security Policies etc. are some of the strategies used to ensure logical separation.
Business Scenarios where we have worked with our clients
Large Established Product - "Need for a strategic partner or partners who would help us cut down costs and improve our profitability ".
Mid- Size Product - "We have a software product that is gaining adoption. We want a partner to take care of the increasing development burden".
Start Up's - "We have a small company operating in a certain domain. We want to exploit our customer base by providing them with an aligned software product ".