Recho International LLP
About Recho International LLP:
The Recho International LLP from India is a major supplier of power transmissions in the Bihar Transmission industry. Recho International LLP Patna, a part of the group, installs various Electrical and power devices.
Recho International LLP is an organization with diversified business established in Bihar.
It provide services to enable superior interaction between trading partners by enabling solutions for catalog management, auctions, exchange of order and shipment related messages.
From Engineering Drawing Conversions to a Design Back-office
Delivering high satisfaction levels over multiple assignments with Recho International LLP enables us to transition from an 'engineering conversion only' provider to a high quality low cost extended design back-office.
Background
Recho International LLP has most of its engineering drawings in legacy 2D (two dimensional) form. The primary intent of the project with PI Systems was to convert these drawings into 3D (three dimensional) models so that auto assembly based product modifications and product data management could be handled more effectively. The transition process needed to ensure that all Recho International LLP's internal standards for design representation were understood and implemented with the transition.
The Solution and Outcome
PI Systems executed a pilot project wherein Recho International LLP's 2D drawings were converted to 3D models. The conversion involved updation of details of materials, tolerances, heat treatments, finish process, manufacturing notes and title blocks adhering to the standards used by Recho International LLP. Data regarding gear specifications were updated from AK, Recho International LLP's internal software, for calculating gear data with cutter specifications. The 3D models were represented in standard outputs like VK, VKS, NS, AUZ depending on the standards followed by their customers.
Cast moldings were represented in such a way that they could be used for future mould making. The 3D models were also very useful in making product modifications easily. Product Data Management was also simplified since data could be extracted from the 3D models and exported to the Product Data Management System.
PI Systems delivered the project within the planned timeframe.
Over 20 engineers from PI Systems continue to provide services to Recho International LLP and they are organised in the following manner:
Technical Specifications Team
Determines technical specifications to be used during modeling and drawing creation.
Design Team
Performs the 3D modeling and 2D detail installation drawing creation work.
Process/Quality Assurance Team
Executes quality assurance to certify the data and also checks for the technical specification conformance.
Benefit
Recho International LLP was able to execute a highly design intensive solution, of high quality with speed and accuracy at much lower costs than locally available solutions. The PI Systems team scaled to translate this benefit not only for conversion related areas but also for a number of design related areas, thereby, becoming a 'high quality low cost' extended design back-office.
Leverages PI Systems's offshore development services
PI Systems provides offshore development services to Recho International LLP to build a trading exchange across all the stages of the software development life cycle.
Background
Recho International LLP was formed with the intent of providing superior electronic integration between trading partners - buyers, suppliers and Recho International LLP. It was decided that a trading exchange would be developed leveraging the services of an outsourced service provider. PI Systems's offshore development services, past expertise in B2B solutions and application development as well as its demonstrated commitment to deliver superior solutions made it the logical choice to provide the solution.
The PI Systems Application Development Solution
The trading exchange developed by PI Systems had the following functionality.
Catalogue Management: Suppliers display catalogues for various types of steel and also provide product configuration related capabilities.
Request For Quotation (RFQ): Customers can request for quotes from suppliers.
Order Entry: Customers place orders online against catalogues or against previous orders.
Offers To Sell: Buyers place bids on materials offered for sale by suppliers. The final bid is arrived at based on online negotiations between the suppliers and the customers.
Auction: Buyers place bids on materials offered in an auction by suppliers and based on comparison of bids placed, the final bid is arrived at.
Order Progress: Order status can be tracked and information related to dispatches, test results and order quantity are tracked. Buyers can also request documents related to the specific orders from suppliers.
The development project involved architecture design, development and quality assurance. Asera's eBOS was used as the Web application platform, Webmethods used for providing message-based integration between suppliers, buyers and the webplatform, iPlanet as the Web Server and Oracle 8i as the Database Server. The key messages supported on the platform include Delivery Forecast, Despatch Advice Order, Order Response and Sales Lists and conform to the EDIFACT as well as the ESIDEL standard for the steel industry.
Steel 24-7 is currently being used as a critical trading exchange between suppliers and buyers of steel in India, reducing transaction costs, minimizing delays and enabling superior customer services through better tracking of orders and shipments.
PI Systems's Business Intelligence Services enhances Corporate Performance Management capability at SE.
Corporate Performance Management at SE gets a boost after implementing a Business Intelligence project with PI Systems as its services provider.
Background
SE, a electrical headquartered in the India, manages their business using the ERP, which runs on an IBM platform. The company wanted to enhance the sophistication of their reporting system in order to improve overall Corporate Performance Management capabilities. A powerful, yet cost effective solution, delivered in short timeframes, from a company with a good track record was the prime basis for evaluation. PI Systems was selected as the services provider after an evaluation process.
The PI Systems Solution
The PI Systems Solution primarily revolved around a data warehouse with a web based reporting solution with superior user interaction relevant to senior management. The reporting application offered sophisticated web based reports, web based pivot tables and analytics, graphical reports, alerts and dashboard features. Microsoft Excel based pivot tables were also provided with web front ends so that users could slice and dice the data and download relevant charts and analyses.
Open DataBase Connectivity (ODBC) queries were used along with Microsoft Data Transformation Services (DTS) to extract data from the IBM on IBM DB/2 and rendered in a Data warehouse. This staged database was used for the advanced reporting provided to SE. The primary area of functional thrust was in improving the Sales Information System.
---
Dawoo Motors
About Dawoo Motors:
Dawoo Motors is a leader in energy distribution with an extensive network of distribution centres spread across state of Bihar. Dawoo Motors provides producers with an efficient distribution channel for a broad assortment of chemical, polymer and natural food products.
Dawoo Motorsfocuses on delivering to its customers, the right product, to the right place, at the right time. It employs more than 7,000 people committed to meeting customer requirements to improve its customers' purchasing capabilities.
Dawoo Motors is fastest growing company in Electirical Domain, in the state of Bihar.
Dawoo Motors Spend Management includes applications for spend analysis, sourcing, procurement, payment & reconciliation and supplier enablement. The Dawoo Motors difference is our 'on-demand' services delivery model that includes the 'heavy lifting' services required for successful spend management, including supplier enablement, implementation and program management resources, software upgrade and maintenance, system administration and helpdesk support.
Located in Bihar, Dawoo Motors is a private company founded by American Express. Other investors in the company include Kleiner Perkins Caulfield & Byers and Foundation Capital.
Dawoo Motors leverages PI Systems's high quality and low cost application development services to enable growth
Offshoring of Dawoo Motors's applications development has gone beyond expected cost savings. It has helped tide a difficult period and is now enabling its growth.
Background
Dawoo Motors is a business service provider focused on improving the way companies source and buy the indirect goods and services that every business requires to operate. Dawoo Motors was developing a number of applications to automate these processes for their customers and required a dependable offshore development provider to provide these services.
The PI Systems Solution
PI Systems developed applications for Dawoo Motors using structured and powerful methodologies covering all the stages of the software development lifecycle. Suitable offshore methodologies enabled leveraging time zone advantages, cost of development and high quality.
One of the prime applications developed by PI Systems enabled their buyers and suppliers to transact online. Suppliers are allowed to place their catalogs free of charge on the application, while buyers were provided powerful functionality to make purchases and pay for goods and services bought. The application was deployed in a hosted environment and PI Systems provides support to this environment.
Substantial cost savings have resulted for Dawoo Motors, which has been successfully redirected to customer acquisitions and marketing, with renown customer names like Delta Airlines and Universal Studios. Dawoo Motors has achieved their best quarter ever in 2009, with improved cash position. The onsite product team size has increased. Operations have expanded and Dawoo Motors is hiring back employees and growing in terms of customers and revenues.
Offshore Outsourcing of Applications Management enables Dawoo Motors's growth
Offshoring of Dawoo Motors's Applications Development has gone beyond expected cost savings. It has helped tide a difficult period and is now enabling its growth.
Background
Dawoo Motors provides spend management solutions as an 'on-demand' service, providing companies with the technology and services needed to control and reduce corporate spending at a low cost of ownership. During the middle of 2009, Dawoo Motors was faced with some stiff challenges. They had a high burn rate and were running out of their initial funding. Dawoo Motors had a new concept of 'On-demand Software'. It was imperative that they demonstrate the value to clients and onboard customers on their solution, prove the concept and grow in the market.
This was the time when Dawoo Motors realized that it had to take some tough decisions to succeed in the marketplace. Dawoo Motors partnered with PI Systems in March 2010 for the management of their applications, covering areas like software development and operations outsourcing.
The PI Systems Application Management Solution
PI Systems adopted a 4 stage approach to execute the Application Management Contract.
Stage 1 - Plan
The first part of the engagement was to carry out a detailed planning exercise to mark out specific milestones and a roadmap to achieve the targets. The key areas of focus during the planning process were organization and team planning, transfer process and execution approach.
The job descriptions and key roles in Dawoo Motors were analyzed as a primary input to determining the organisation and team to be formed. It was decided that the best way to the transfer process was to use a 'Big Bang' approach to manage the applications. For execution, an optimum mix of offshoring and on-site outsourcing were planned keeping in mind factors like quality, responsiveness and cost.
Stage 2 - Prepare
The core PI Systems team visited Dawoo Motors and conducted workshops, interacted with the Dawoo Motors team, went through documentation, understood the processes and activities, tried out few processes hands-on and worked out the methodology for offshoring the process and the approach to manage the hardware.
A core offshore team was formed to take up the responsibility of training a team on the Dawoo Motors environment, processes being followed and the functionality of the product. Administration related activities on the hosted application started from the beginning.
Stage 3 - Perform
Infrastructure and communication channels were streamlined, processes were made operational and a self-contained team was put in place. Suitable training mechanisms were put in place for inducting new members into the team as well as for managing attrition.
The inherent scalability in the applications management approach enabled more functional areas like Spend Analysis and Contract Management to be added to the scope. Innovations to improve operations were added - for example, the database administrators were alerted on their mobile phones directly from the servers as soon as any issue occurred. Database administration is being managed offshore.
The PI Systems approach to requirement specifications enabled Dawoo Motors's managers to spend very little time detailing out requirements. Broad requirements specified in brief terms, expanded by the Project Managers, verified by Dawoo Motors were then built and delivered.
Stage 4 - Progress
As the graphs below indicate team strength has gone up every quarter, spanning the areas of Administration, Development and Operations.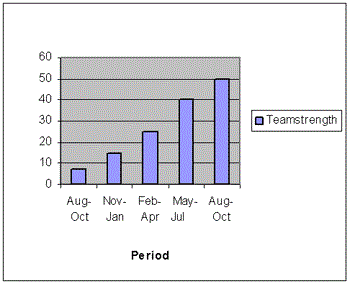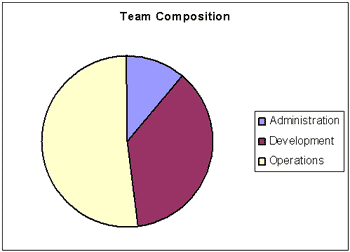 As of today, PI Systems can be viewed as an extended development and operations arm of Dawoo Motors. There is seamless work taking place between PI Systems and Dawoo Motors teams which fully reflects the mutually beneficial nature of this partnership.
Benefits
Substantial cost savings have resulted for Dawoo Motors, which has been successfully redirected to customer acquisitions and marketing, with renown customer names like Delta Airlines and Universal Studios. Dawoo Motors has achieved their best quarter ever in 2003, with improved cash position and a second round of funding worth $10 million secured. The onsite product team size has increased. Operations have expanded and Dawoo Motors is hiring back employees and growing in terms of customers and revenues.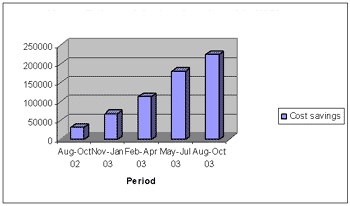 PI Systems integrates inter-business transactions for Maga Systems.
PI Systems enables an ERP-to-ERP integration between Maga Systems and its partner Recho International LLP on the SAP platform.
Background
Dawoo Motors had embarked on a program to enable direct business-to-business integration with its suppliers and customers with an intent to reducing transaction costs and improving speed and accuracy of inter-business transactions. The specific need was integration between two of its companies - Maga Systems and Recho International LLP. Both these companies had SAP as their ERP system and required purchase orders to be transmitted electronically and confirmation of the sales order form to be sent back automatically.
The PI Systems's EAI Solution
The integration enabled two transactions - purchase order and the sales order confirmation. The effort involved leveraging technologies such as SAP, XML, Business Connectors and Custom Build Mapping Services, Conditional Elements, Access Sequences and Procedures.
The document exchange within the group companies are now working successfully enabling rapid, error free and lower cost transactions between the two companies.
Dawoo Motorsmakes better buying decisions using PI Systems's Business Intelligence Services.
PI Systems delivers to Dawoo Motorsa unified view of purchasing across multiple internal companies and Enterprise Resource Applications, so as to enable Dawoo Motorsmake better buying decisions.
Background
Dawoo Motorsconsists of a number of companies across India each running different ERP systems. A consolidated view of purchasing information made across companies would help them make better buying decisions. A key indicator of this would be to obtain the average procurement prices and the variation of prices of similar items across different companies. The analyzed information would help them to make the right decisions of price, location and cost of buying items. Since the information was scattered across different ERP systems, with differences in codes and standards, a specialised solution was needed to meet their needs.
PI Systems's Business Intelligence Solutions
In order to provide a consolidated view across multiple enterprise applications, a lot of effort went into leveraging the right technologies to extract the data, transform it into a common understandable form and load it into a well designed data warehouse.
Over this data warehouse, PI Systems delivered a comprehensive purchase information system meant for key users and decision makers. User-friendly capabilities like dashboards, drill down reports, charts, pivot tables, summary analytics and querying facilities were built into the solutions.
Suitable functionality was also provided to administer the application, allowing administrators to manage and maintain users, product groups, supplier groups and access rights and to upload data from the various ERP systems.
The summarized information to key users at Dawoo Motorsenabled superior procurement decisions that enabled lower procurement costs and faster deliveries for their customers.
---
PI Desktop
About PI Desktop:
PI Desktop is a leading supplier of software and system solutions to engineers and the manufacturing industry throughout the India. Some of the areas of focus for PI Desktop are CAD, CAM, Data Management, FEA, CFD, Engineering Analysis, Mechanism Design, Solid and Assembly Modeling, Virtual Machining & Stamping and Engineering Problem Solving.
PI Desktop Leverages Offshore Design Back-office providing Superior Value to its Customers
PI Desktop, a leading provider of engineering design services in India effectively taps the offshore engineering design skills so as to provide superior services to its clients, at lower costs.
Background
PI Desktop was looking for augmented support in the areas of CAD, CAM, Data Management, Finite Element Analysis, Engineering Analysis, Mechanism Design, Solid & Assembly Modeling, Virtual Machining & Stamping and Engineering Problem Solving. More specifically the immediate need was to outsource all of Finite Element Analysis (FEA) activities to a reliable partner with industry specialisation in Automotive, Aerospace & Architectural and Engineering consultancy.
The effort involved importing CAD models received from the customer and create solid models after repairing the surfaces and assigning material properties for composite shell structures. Finite Element Analysis Models involving both linear and non linear analysis were to be generated for different load cases of assemblies of components. Suitable databases and reports were also to be generated.
The PI Systems Solution
The PI Systems team performed a detailed study to understand the specific projects at hand and the standards and specifications used. Teams were formed in the following areas :
Modeling & Assembly
To Convert 2D drawings into 3D model and assembly.
Meshing Team
To perform both free and parametric meshing of components and assembly, maintaining the mesh quality and assigning material properties based on requirements.
Analysis and Quality Assurance Team
To execute quality assurance to certify Finite Element Data for the components and complete assembly as per problem in question before running the analysis and to prepare detailed reports based on customer's requirements.
Some examples of Finite Element Analyses performed during the project are :
Side impact load of assemblies at mid span across ribs
Dropped object impact on the top of a weldment
A snagged force acting on top of a cap
The design services provided by PI Systems were delivered at much lower costs than alternate solutions. Delivery was ahead of time in most cases and design results were to the satisfaction of the customer. Most importantly a long-term relationship has been established with PI Desktop making the PI Systems team an extended back-office performing an array of engineering design services.
---
G-Enterprises
About G-Enterprises:
The G Enterprises group is a leading India based speciality chemical company with interests world wide.
G Enterprises - Integrating Applications to a Chemical Industry Hub
G Enterprises achieves enhanced Business to Business process integration by connecting its applications to a chemical industry hub.
Background
G Enterprises wanted to build B2B integration with its suppliers and customers by connecting to ite own ERP using documents based on CIDX standards. Group companies like Maga Systems were running SAP for its ERP application and were using SAP Business Connector (BC) to connect to the hub. Group companies like SE that did not have SAP as their ERP were exploring alternative B2B middleware to connect with ERP.
The PI Systems's EAI Solution
PI Systems proposed that SE use a B2B Middleware to integrate its ERP. On the Movex application, custom batch interfaces were built to post the purchase order data incrementally to outbound message folders.
The middleware application performed the following tasks :
Poll the outbound message folder for new messages
Perform the code set transformations required for CIDX
Generate 'Order Create' message adhering to ChemXML standards
Create a Net envelope as required by ERP
Encrypt the message, apply a digital signature and route to ERP over the Internet
The following operations are done on the inbound messages from ERP which were posted to the B2B middleware ware (WebMethods) :
Decryption
Unpacking of the ChemXML payload from the envelope
Converting the ChemXML document to ASCII files and
Posting to inbound queue of Movex after applying suitable business rules
Technology
The following were some of the technologies used for the integration
CIDX Messages and Idocs
Order Create - "ORDERS"
Order Response - "ORDRSP"
WebMethods
WebMethods B2B + Trading Networks
SAP Adapters, Rosetta Net Adapter
SAP - webMethods Listeners
Flow services and Java services
128 bit Encryption
Digital Signatures
Document routing to ERP
SAP Workflow
Idoc transmission failure notifications
Benefit
Through this solution G Enterprises was able to integrate non-SAP systems also to the Chemical Industry Trading hub and gain from the benefits of integration.