| | | |
| --- | --- | --- |
| | Customer Cases | |
Home > Services >

Independent Verification & Validation
Independent Verification & Validation
In today's business environment, an application that fails is not just is a bad piece of software, it has an adverse impact on your business. Software quality is created and assured by efficient testing, and testing services have emerged as a critical specialized functional area within the IT domain.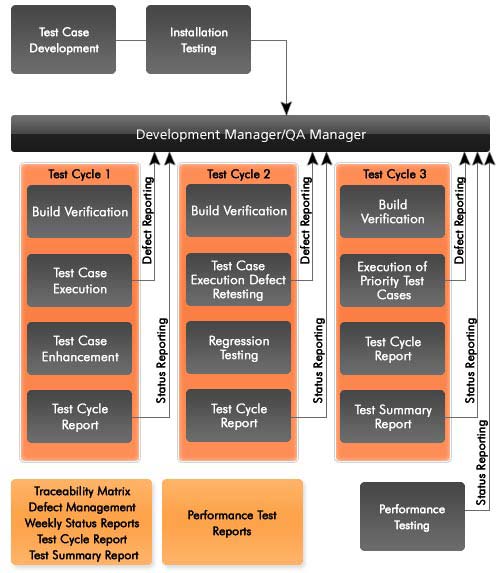 Testing is recognized as a specialized functional area within the development lifecycle that is critical to business success. Experts advocate that testing be conducted independently, and industry best practices include setting up independent testing teams that function autonomously. As a specialized skill, testing is common to all vertical industries and technological domains. By virtue of its high skill focus, non-limiting attributes and independent nature, it lends itself as a prime candidate for outsourcing.

Independent testing on complex and critical applications helps in operating with zero system outages from application failures. The ability to test and validate business applications and software products is vital for helping organisations operate effectively. The main reasons for any application failure is attributed to two aspects, one, being lack of business knowledge and second, poor testing processes. Increasingly companies are realizing the need for a specified outsourced testing "Centre of Excellence" (COE) or Managed Services engagements. COE's enables IT organisations to streamline their delivery effectiveness.

We, in PI Systems, deliver an onsite or offshore or multishore testing engagement models to make our customer applications succeed. Our deep domain expertise in enterprise testing, mission critical applications, software products and real-time systems, can increase the return on applications investment.
This helps many organizations to
| | |
| --- | --- |
| | Improve application , organisation flexibility and response of testing services to meet business needs |
| | Reduce overheads associated with recruitment and management of test contract staff |
| | Increases QA Management Accessibility to a wider pool of specialists and scalability as needed |
| | | |
| --- | --- | --- |
| | Industries | |
| | |
| --- | --- |
| | Enterprises |
| | Healthcare |
| | Education |
| | Government |
| | Sports |
| | Media |
| | Manufacturing |
| | Logistics |
| | |